Photographer Tapio Leisti (1912–1993) was based in Kotka and mainly photographed black-and-white portraits, compositions, and milieu images from the 1940s to the 1980s. His photographs are a combination of professional skill, playfulness, and nostalgic daily life.
The photographs transport the audience to the Kotka of the past, the sandboxes in backyards, the shore cliffs warmed by the sun, and the lively atmosphere of the harbour.
Tapio Leisti was awarded the international titles ARPS (Associateship of the Royal Photographic Society) and AFIAP (Artiste de la Fédération Internationale de l'Art Photographique) of his field. The requirements for the titles included participating over 40 times in an international photography exhibition and the acknowledgements gained through the exhibitions.
The meritorious photographs of Tapio Leisti were donated to the Kymenlaakso Museum by his daughter Marianne Roslund.
The photography collection of Tapio Leisti is presented in this extent for the first time. The exhibition Studio Leisti in the Kymenlaakso Museum is a joyful journey to the Kotka of the previous century.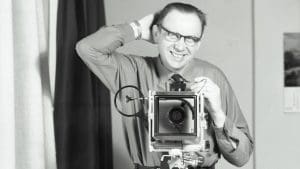 Photos: Tapio Leisti, the Kymenlaakso Museum