The Svensksund Pavilion sheds light on the battles of Svensksund in 1789 and 1790 and the wrecks that lie at the bottom of the sea around the island. In addition to the wrecks, the focus is on people's stories.
The pavilion is open 18 May-31 May 2023 Thu-Sun from noon until 6pm. During the summer season 1 June-27 August 2023 you can visit the exhibition from noon until 6pm on the opening days of Restaurant Vaakku. Admission to the pavilion is free.
In terms of content and style, the pavilion is linked with Maritime Centre Vellamo's Fateful Svensksund exhibition, from which characters have been brought to the pavilion as drawn versions. The original photographs were taken by fashion photographer Elina Simonen. The pavilion also features pieces of warships from the wrecks of Svensksund, with drawings indicating where the pieces were originally located on the ships. The drawings of the persons and shipwreck pieces were made by diver Kalle Salonen.
The items in the display cases are 3D printed and painted copies of objects found in the wreck of the frigate St Nikolai. The real objects can be seen at the Fateful Svensksund exhibition.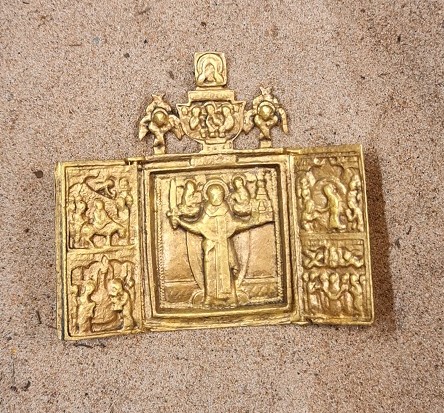 Photo:
Cross pendants and miniature icons provided spiritual support and security for travellers, also during war. Many an icon featured Saint Nicholas, the patron saint of sailors.